Welcome Ava Jane van Rij – 09-03-09!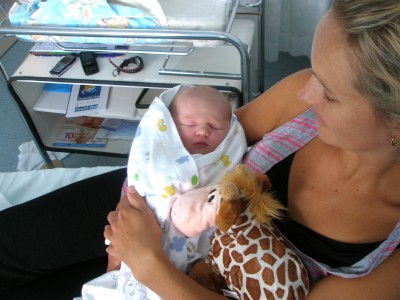 Simon and Kerryn are now the happy parents of a healthy little girl. Here is a copy of Simon's Email:
Things went great last nght just over 6 hours for natural delivery. Kerryn did great and was amazed to have handed to her a large chubby girl. 4.1kg or 9 pound 2. Ava Jane van Rij. Very proud Mum and Dad.
Congrats guys – Our kid's  first cousin on the van Rij side – Yay!
40767
Veronica and I have since had a chat with Simon and Kerryn about Ava and we are even were able to see here in the video feed over Skype. She is reaaly great, good sized van Rij baby with some obvious common gene features there to see – amazing how similar she looks to our kids. Simon looks like he is totally smitten and even pulling himself away from his study to spend some time with the new addition.
I have added an Album of Ava to the site so you can get a look at a few more photos by clicking on the thumbnail here.