MTB @ Whiting Ranch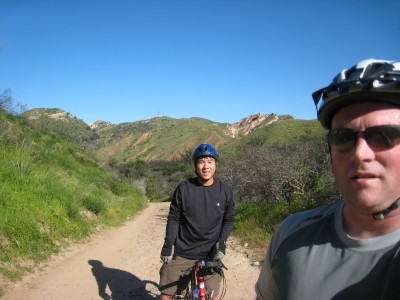 Finally got on a proper mountain bike ride with the Stumpy. Hong (Clemency's old soccer coach) took me out and showed me one of the local tracks up in Foothills ranch. Headed out early on Saturday morning on a beautiful California morning, it was a steadily increasing climb along the canyon on a single track up 900ft to the top of the pass (Emphysema hill). Then it is all downhill and loops back along another canyon around to the start, great fun and technical enough to keep the concentration up, at least for me. It was still obvious the remains of the Wildfires that came through the whole Foothills Ranch area in October 2007 and these tracks were closed for a long while.
The Stumpjumper got a good work out and, other than washed out stream beds full of sand making things difficult when being clipped in, there were no problems. Just one loop today as it was the first time out but it was a good start and something to do more often.
Of course when I got home at 10.30am from my ride the kids wanted to go bike riding as well, so we also fitted in a 5km ride around Turtle Rock. Hadley did particularly well on his little bike, even with training wheels – have to get those off soon.
View Map and click on Search to see the track